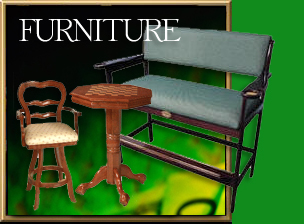 No matter what you are looking for in a bar stool, spectator chairs or pub tables, you'll find it at Devine's! We carry a wide selection of all three, featuring innovative designs, superb quality, and easy assembly. The widest selection of bar Stools and Spectator Chairs - With Your Choice of Fabrics and Stains. If you are looking for high-quality spectator chairs, we've got 'em. Or, if you prefer the look of a wrought iron bar stool, we've got those too.
Furniture for the Games People Play
From Folding Chairs to Table Tops...