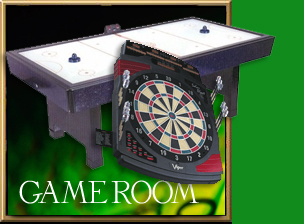 Devine's Billiards and Darts is your ultimate resource for everything you need to stock your game room. Our goals are to provide you with the products you need to keep your family and friends entertained.
No matter what your sport or entertainment desire. Devine's has the right tools for you. Select from our complete line of Dart Boards, our wide selection of Foosball Tables, or quality Air Hockey Tables. You are sure to find what you need at our retail center.
Devine's offers only the top quality equipment for your home or business. Cheap equipment is everywhere. And if all you want is a little "whack-a-ball" fun for the kids, go for the lowest price you can find. If, on the other hand, you want the best possible price on equipment that's true to the sport Devine's is your only choice.
Featuring Pro Foosball tables, Air Hockey tables, quality and decorative Chess and game sets, a wide selection of card tables and slot machines.