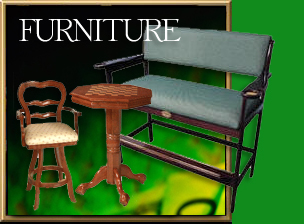 No matter what you are looking for in a bar stool, spectator chairs or pub tables, you'll find it at Devine's! We carry a wide selection of all three, featuring innovative designs, superb quality, and easy assembly. The widest selection of bar Stools and Spectator Chairs - With Your Choice of Fabrics and Stains. If you are looking for high-quality spectator chairs, we've got 'em. Or, if you prefer the look of a wrought iron bar stool, we've got those too.
Furniture for the Games People Play
From Folding Chairs to Table Tops... Planning a casino party? Want to have the right equipment and furniture? Then we have the gambling equipment you're looking for. A large selection of Commercial Bar Stools at Affordable Prices. You get your choice of colors or styles. Make it functional, or make a statement. Our selection of Chairs and Pub Combinations will complete any game or pool room. Select from Classic wood with a selection of fabrics and stain finishes, or go for the wrought iron with decorative metal twists. A complete line of Economy, Deluxe and Premium Pub Tables. Available in colonial style with inset Chess squares, or Ornamental Scroll tables. Our spectator chairs and designer bar stools come with your choice of fabrics to fit your own taste and style. The variety of Floor racks and wall racks will surprise you. Pick your style from corner racks to round racks to tall wall units in a variety of finishes including wood and wrought iron. No game room would be complete without a beautiful functional bar. We offer a variety of styles and finishes to compliment any room or taste. At Devine's we offer a collection of Hand-Crafted Masterpieces from around the world. Complete the look of your game room with our popular wall decorations, accent furniture pieces or functional game accessories. Visit our Retail Center for a complete hands-on feel of what you can expect.