The Presidential Billiards
Presidential's billiard tables reflect the accuracy, beauty and stability of a high quality product.
Presidential tables are manufactured in Zimbabwe by Wilson International which was established in 1958. This family owned business has developed a reputation as a supplier to some of the most recognized and prestigious domestic furniture companies as well as suppliers of hotel furniture to fine hotels; both on a world wide basis. " "The tables are primarily made from an exotic African hardwood, namely African Teak, with our ""value line"" manufactured from Tropical Conifer. All of our timbers are harvested under the strictest conservation guidelines from established hardwood plantations or designated forests. We do not cut virgin forests or in any endangered habitat areas.
CARVING
Our tables are not only unique as a result of the exotic African hardwoods used but because of the extensive hand carving. Each table is unique. The carving is started by machine and then all the intricate work is done by hand.
CUSHION The cushions on all our tables are BCA tournament approved K-66 profile. Only top quality rubbers with canvas backing are used on our tables to ensure an incredibly accurate rebound.
POCKETS Our pockets are custom made by RC Designs and they are color stained to match the wood used, which enhances the overall beauty of the table.
FINISH The billiard table is finished using only the best stains with pre-catalyzed wood lacquers to achieve an excellent uniform furniture finish.
WARRANTY Presidential Billiards warrants each billiard table (excluding cloth and pockets) against defect in material or workmanship (excluding normal wear and tear) for the life of the table with the original purchaser. Presidential Billiards will repair or replace, at its sole option, any or all parts proved to be defective.
MODELS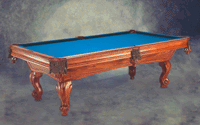 HAMPTONS Manufactured from Tropical Conifer and available in three finishes -Mahogany, Traditional Oak and Harvest.
Also available with three leg options Ball & Claw, Rams head and Queen Ann.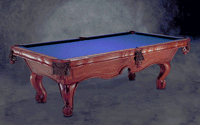 ADDISON Manufactured from Solid African Teak with a hand carved Rams head leg.
Available in a natural teak finish or a Mahogany finish.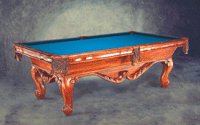 MONTICELLO Manufactured from Solid African Teak with a hand carved Rams head leg.
Available in a natural Teak or Mahogany finish.
Exquisite hand carved details. >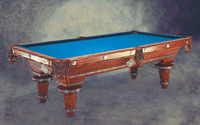 EDINBURGH Fiddle back Bubinga Veneer and exotic African teak with Silver Celtic-style Appointments.
A unique table with an Antique Flavor.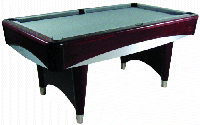 VEGAS Wide African Mahogany Top Rail Tapered Cabinet, Diamond Sights and Aluminum Accents








To view the complete Presidential Billiard L.P. Table Line, visit the company website at
Presidential Billiards
"